WildOslo Tours with guide: Juliette from France (Skiing + skating tours)
January 2022
Fantastic! We did both the cross country and the ice skating tours and they were amazing. Both were on beautiful lakes outside of Oslo, felt like we were in the middle of the wilderness. The teachers were terrific! We highly recommend!! Paul (kayak tour)
August 2019
A brilliant experience and certainly the highlight of our Oslo family holiday. Highly recommended to anyone wishing to have a day outside the city away from crowds and without travelling far. No prior experience of kayaking is necessary and we all found it very easy and enjoyable. The lake is a short distance from the city and easy to reach by bus. Our hosts were brilliant, we were made to feel very welcome and really enjoyed the whole trip which included a BBQ lunch in the forest. The lake was unspoilt and almost completely deserted. The scenery is spectacular. Our only regret was that the time went too quickly. James (ski tour)
March 2019
AMAZING! One of the best experiences I have ever had! The views were beautiful and so was his cooking! I am so grateful that I had the opportunity to do this. Oddbjørn is one of the nicest and most humble people Ive ever met. I wish I could give this more than 5 stars! Wilson from Wales (ski tour)
January 2022
We had the cross country skiing tour with Oddbjørn and it was amazing his local knowledge of the area was great. Oddbjørn met us by the bus stop and he was super helpful and nice as we had never skied before we stopped for lunch that was cooked over a fire and the whole day was fantastic. I can't recommend this more and next time we are in Oslo we will definitely book again with WildOslo. Emily (ski tour)
February 2019
Absolutely amazing!! My husband and I had zero experience before this activity and still had great time cross country skiing through the woods and across a lake. Oddbjorn was very friendly and quick to respond to questions or concerns. He gave us detailed directions to our meeting place which made navigating public transport worry free. The waffles lived up the hype. They were delicious and we even had some burgers too. I would encourage adding this experience to your stay in Oslo.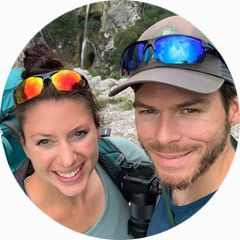 Biggi und Flo - phototravellers.de (winter kayak tour)
November 2022
Wunderschön! Kopf ausschalten, Ruhe und Natur pur. Ihr hört nur hin und wieder die Paddelschläge im Wasser, sonst nichts. Mit unserem Guide Oddbjørn landeten wir an einer Insel und saßen am Lagerfeuer, brieten Gourmet-Hotdogs im typisch norwegischen Lömpa-Brot (Kartoffel-Fladen) und genossen die Wildnis und Einsamkeit.
We live here and we know the wilderness. WildOslo offer rental and guided tours. On guided tours we will take you to our favorite places. It's like having a friend show you around.
WildOslo provide personalized service to small groups. Just nature, no waiting in line. Family friendly. On guided tours: Your pace is our pace.
On the same latitude as Alaska. You will see many similarities: Oslo occupies 454 square km, 242 of which are forests and lakes. Feel the wild, just outside the buzz of the world's most expensive city.