Lyst å leie elsykkel Oslo? Vi holder til Østmarka/Sørmarka – 18 minutter med bil fra Operaen – 21 minutter med buss fra Bjørvika.
Her kan du velge å sykle landevei, grusvei eller terreng
Vi har fire nye terrengsykler og én hybrid
Du kommer dypt inn i Østmarka og Sørmarka med elsykkel
Elsyklene våre er komfortable og gir deg hjelpen du ønsker for å erobre Oslomarka. Den stillegående motoren tar deg 50 til 70 kilometer på en lading.
Vi gir deg kart med anbefalte ruter, og du kan sykle i naturen, til Oslo sentrum eller der du vil. Å sykle til Oslo S tar cirka 40-45 minutter. Vi hadde faktisk to gjester som ble forlovet på vei til Oslo. Uansett, startpunktet er Sværsvann, i Oslo. Med buss tar det 21 minutter fra Operaen/Bussterminalen. Med bil tar det 18 minutter. Du får gratis parkering her, med plassgaranti.
Map with recommenced routes
Map with recommenced routes
kr
400
per elsykkel
Map with recommenced routes
2 elsykler
Leie elsykkel Oslo - En hel dag
Map with recommenced routes
kr
300
per sykkel
Map with recommenced routes
3 til 4 elsykler
En hel dag
Map with recommenced routes
Hvis du ønsker guidet tur, så vil Daria, Oddbjørn, Trond eller Stine guided dere. Les mer om guidet tur her. Her er tilbakemeldinger på guidet tur: Luiz Müller
Wunderbar, die Natur ist wundervoll, den Wege es sehr cool geplant. Ich werde auf jeden Fall wieder kommen John C.
If you want to get out of the city and see a little of Norwegian nature this is a great way to do so. It was very easy to get to the experience and the directions were very clear. I was met at the stop by Daria and taken, by row boat (which was fun), to the bikes. The bikes were very well maintained and clean. The ride features a hike up to an observation town for some snacks and amazing view. There was also a chance to swim and a cookout next to a lake for lunch. This was a wonderful change a pace from hanging out in the city and I highly recommend it! Gennadiy C.
I can't say enough how great Darya is as a guide. She is very professional and knowledgeable, she told many interesting things about the nature. We are not super experienced bikers and Darya took careful attention to make the experience just challenging enough to be fun. Super highly recommended! Bennett T.
Had a great time on this trip while in Oslo for work. It was a great way to get out of the city and experience the mountains of Norway a bit closer. The dinner that was prepared was delicious and provided a nice little break to warm up over the fire. For those wondering if you need previous biking experience to enjoy this: no -- the bikes are e-bikes and you really don't have to do much work if you don't want to as far as pedaling goes. Highly recommend!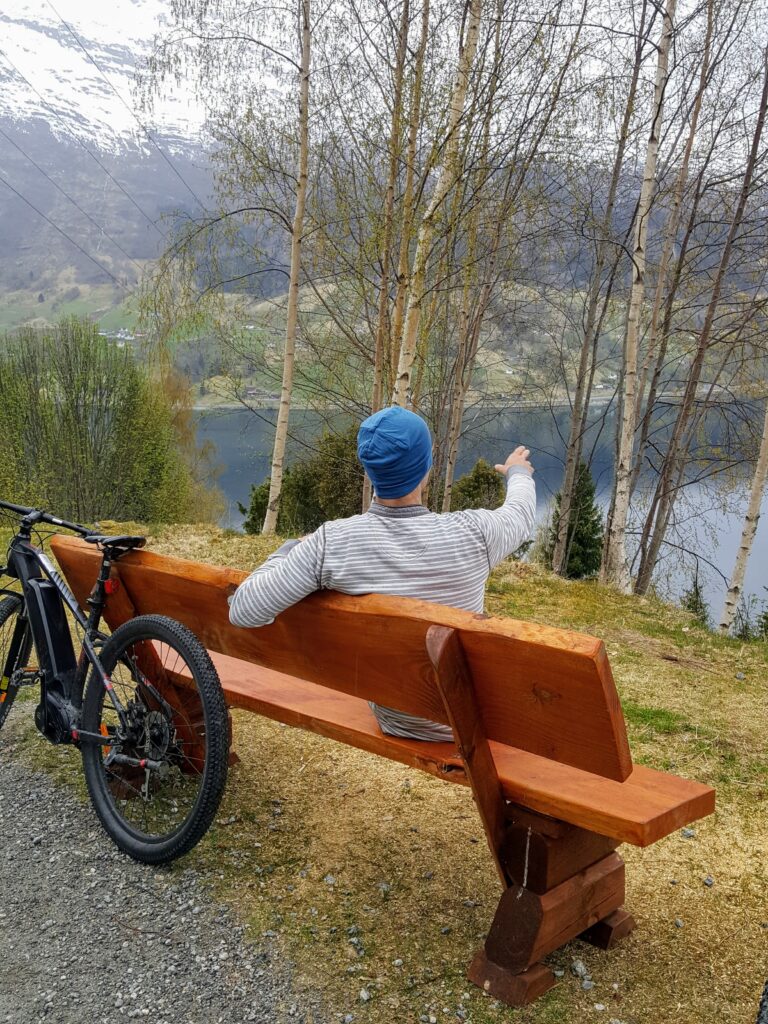 Vi har også utleie av kajakk, kano, sup og mer. Ta gjerne en titt i menyen. Noen velger å kombinere en tur med elsykkel og deretter padling.